What do you do for FSRD? Skate - Black Eyed Suzies
Hometown: Dallas, TX
When did you start skating: 01/20/2013
What do you do in the real world: I'm a nurse!
Tell us more about your decision to join roller derby: I wasn't in the greatest place in my life. I had just separated from active duty, moved back to MD, been dumped, and had just started going to college (I felt like Billy Madison). It was a lot of change at once and I had kind of lost myself. A really good friend of mine was skating with Free State and suggested I get to know some of the skaters at a New Years Eve party. I thought everyone was super weird, but they were also incredibly fun and unbelievably welcoming. Plus, it seemed like a great opportunity to try something new! Who knew that among all of those people, who I thought were so weird, I would find some of the most amazing people I have ever known? Who knew I would find my village and most importantly, who knew I would find my self?
What's your favorite derby memory? Oof. That's a tough one! One memory that really sticks out is my first experience getting hit, I mean REALLY hit, in a scrimmage. I was jamming against a super menacing line-up which included Jackie Treehorn (who kept shooting me super menacing looks). I thought I got out of the pack at turn two when *WHAM* Jackie, out of nowhere, came and laid me the *beep* out. I distinctly remember the adrenaline rush, the strange giggling that came shortly after, and I knew that roller derby was the sport for me.
What's your secret talent? Nothing cool. I'm actually a pretty decent mediator when it comes to everyone else's conflicts.
Notable injuries: Does a left legged tib-fib fracture when I was six years old count?
Likes: Dogs, babies, cardigans, ALL FOOD*, people watching, and teaching myself random stuff (then promptly forgetting it).
Dislikes: My memory, cat fur (allergies), * - liver, rude people, awkward situations (which I am, somehow, always in).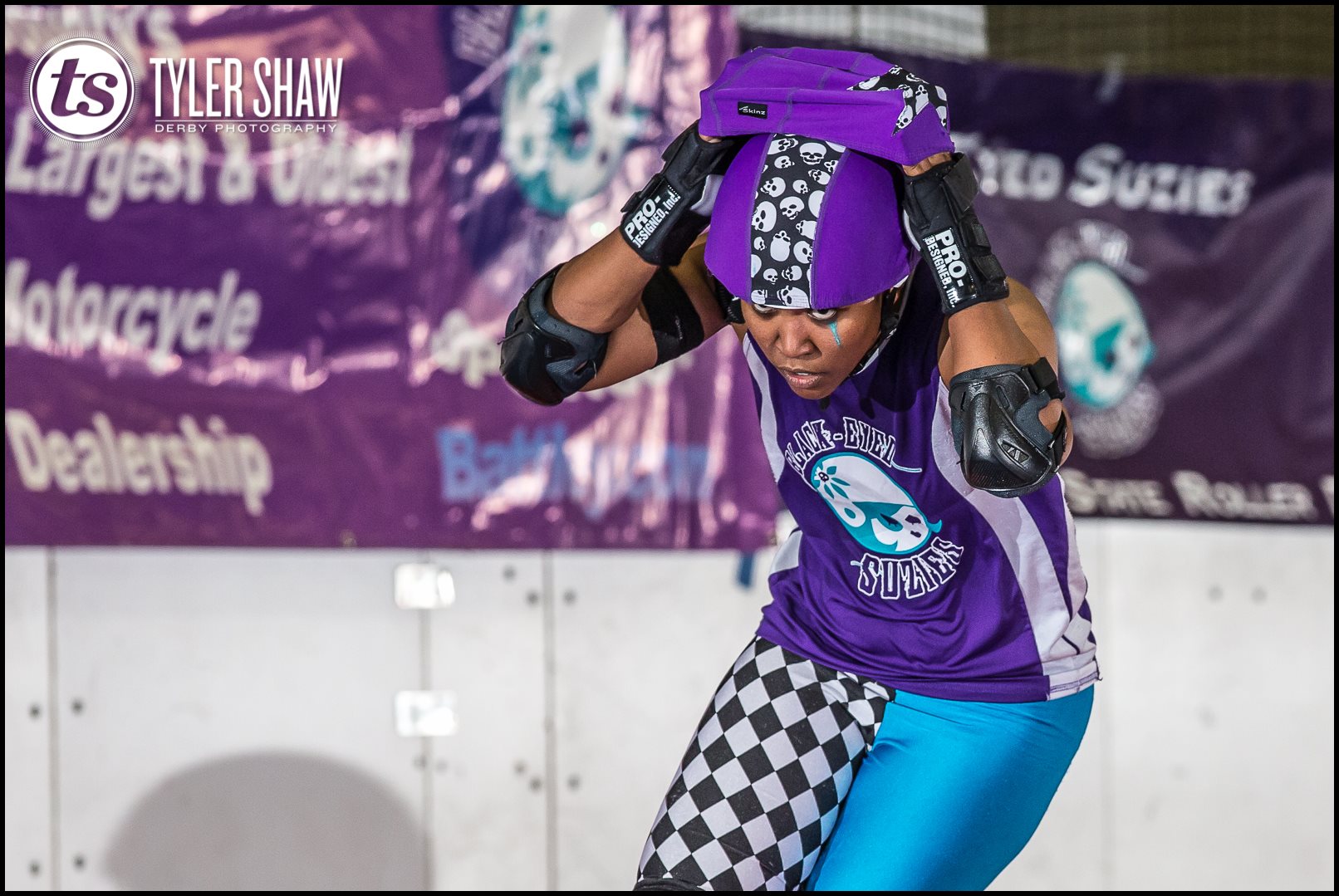 Watch your back, this girl's up to no good! It's number 986, HIJINX!